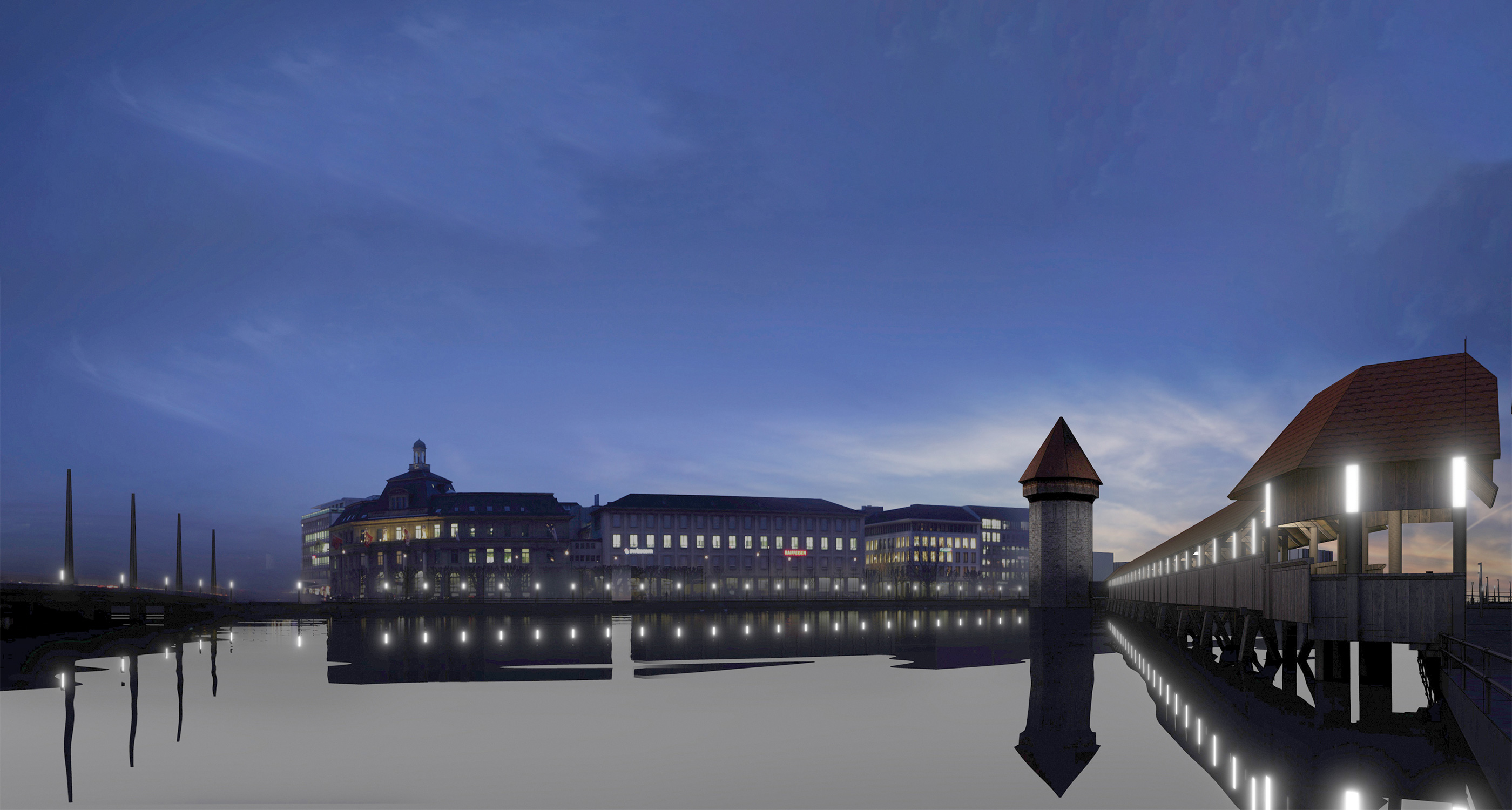 Staging Kapellbrücke and Wasserturm
Lichteinfassung
Our proposal addresses the staging with a respectful and well contextualized analysis of the construction elements of the Chapel Bridge and Water Tower. By extending a rhythmic series of illuminated wooden columns at the four edges of the urban area surrounding the bridge, the Chapel Bridge and Water Tower are framed and staged. This line of wooden poles creates a new urban border, therefore, redefining the way in the Chapel Bridge and Water Tower are staged.
The main design idea is the reinterpretation and staging of the two different gap heights from the bottom of the roof to the upper edge of the parapet of the bridge beam, materializes through the illuminated surfaces of wooden poles. These poles are made of the same type of wood that was used for the construction of the bridge.
Each pole is made from a single piece of wood, which is digitally cut to accommodate the lamp and the technical components inside. Furthermore, it is engraved on the front of a floral ornament just below the illuminated area.
The natural aging is one of the main components in the design of the wooden columns of light. Since they are made of the same wood as the Chapel Bridge, the idea is that in the long-term, the external surface of the pole reaches a similar appearance of the bridge. In this way, the surface of the pillar on which impinges the artificial light and reflects also suffer from the natural aging process. In order to make the aging process directly visible, this surface should be polished annually at all poles. In this case, only the top layer of weathered wood, the illuminated surface, eroded and exposed the original state.
Project team: Luis Etchegorry, F. Alexi, L. Nixdorff
Light Design:
licht&soehne
, Florian Licht.
Data

Year: 2014
Location: Lucerne, Switzerland
Typology: public urban strategy
Built Area: 35.000,00m²
Status: invited competition entry
Client: IG Inszenierung Kapellbrücke/Wasserturm